Trends & best practices
Getting Mobile User Experience Right
Every business is working to attain a very limited resource: your attention. Competition is fierce; there are only so many hours in the day and as a society we are overloaded with managing our busy lives within the constraints of a clock. Attention simply does not scale and as a result we have become very fickle with where we direct it.
So, for organizations, it is absolutely crucial to capture their customers' attention when they are browsing their offerings, and this challenge is amplified when they are exploring your brand via their mobile device. Why? Because mobile visitors have an even lower attention span than other digital visitors, which is why mobile user experience needs to be a priority.
By examining mobile user experience data trends, Quantum Metric found that mobile devices now lead traffic numbers (59% access sites via mobile web versus the 33% on desktop) but conversion is 4 times lower among Fortune 500 retailers. And when it comes specifically to how attention impacts mobile browsing, mobile users in fact have a significantly lower attention span when you compare it to desktop, and even tablet. They are less active, they scroll less, and they leave sooner.
Attention measured as composite score of engagement time and scroll reach.
Customer attention drops more rapidly on mobile, with mobile visitors really only focusing on the top 30% of the page. This provides companies the challenge to improve mobile user experience by designing the most attention grabbing content within a very limited window of opportunity. So how are companies faring in this challenge?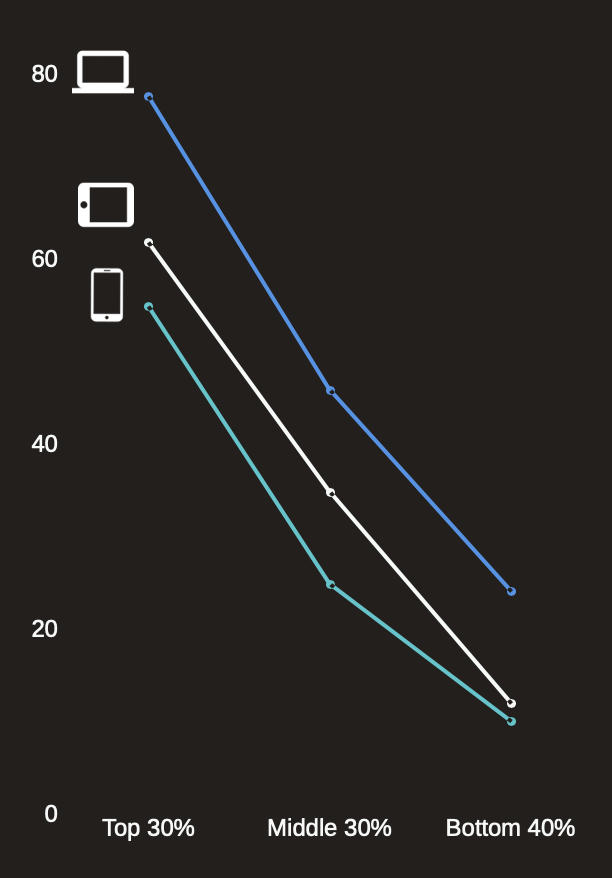 Attention span drops rapidly, especially on mobile.
Unfortunately, the fact is that brands today are overconfident about the quality of mobile experiences they are delivering. A study by Qualtrics found that 60% of companies think they're providing a good mobile experience, but only 22% of consumers feel the same.
But why does attention even matter? Attention is your thermometer for measuring customer experience success, as higher user attention predicts:
• Higher Conversion
• Higher Order Values
• Greater Customer Loyalty
When customers devote more attention to your offerings, they not only purchase at a higher rate, but they purchase more and are more likely to return.
With these critical factors in mind, what has the biggest impact on your customers attention and engagement? Performance. Attention drops for every millisecond a site takes to load. For visitors, any lag time is akin to seeing a line of people outside of your favorite restaurant. Although the food is incredible, the level of effort is just too high. Additionally, it's not just site load time; long-running spinners and slow API calls make it easy for customers to lose focus and completely forget about their initial intentions.
Unfortunately, the industry benchmark is not a sunny forecast. 70% of mobile sites take more than 5 seconds to load, which increases bouncing visitors by 90%. But the good news is that more companies are investing in solutions that provide a single view into both site performance and digital experience, allowing teams to measure and address customer attention as well. This is crucial to not only CX success but also overall business success.
In a study examining 11 years of stock performance, companies who were recognized for their CX leadership outperformed the market, and companies who have been slow to adopt CX fared much lower than the S&P 500 average.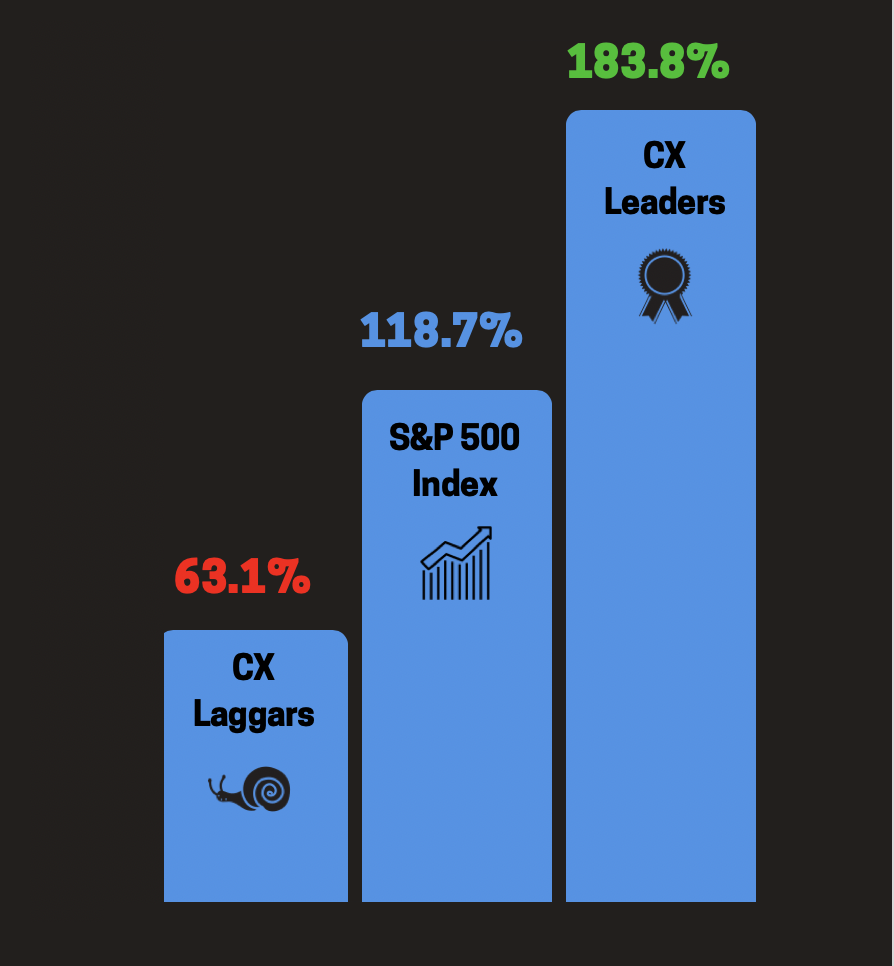 CX Leaders outperform the market on cumulative total return
So how can measuring your digital experience truly benefit you?
1) Knowing what it looks like to be your customers is the key to making informed decisions about how to cater to them.
2) Continuously measuring your mobile performance and its impact on visitor attention will help surface and prioritize adjustments and upgrades.
3) Understanding how people spend their time and attention on your site will highlight the  difficulties they face along the way and allow you to quickly diagnose and resolve them.
4) Designing a mobile strategy that is based on keeping your customers'  attention focused on your site will result in better business performance and less friction every time.
The numbers are clear. Mobile visitor attention is essential to overall customer experience leadership, and the first step to attention capture is digital experience measurement and improvement. Need advice on a digital experience platform? See what the founder of the space recommends.