Trends & best practices
Will Click & Collect be Rudolph or the Grinch?
As we shift into the last inning of eCommerce holiday hoopla, shippers like USPS  will be reaching the end of their shopping window in just 3 days. If it feels like the season is coming to a close way too quickly, it is. Holiday shoppers were encouraged to start before Black Friday and many did. Online shopping through early December was running slightly under and will need $46.7 billion more to reach the expected $143.8 billion prediction. Everybody knew that with Thanksgiving so late, the online window would be tight and shoppers and retailers are starting to feel the squeeze.
Many predictions point towards the trend of shopping online and picking up in store, aka click and collect, as this year's Rudolph to save retailer's Christmas. So we at Quantum Metric wanted to look at the data to see how Click and Collect and mobile shopping impacts retailers. We broke out actual shopping orders by device type and shipping method for retailers who have a brick and click model to see how they might fare.
Over the long haul, retailers have faced lower average order value as shoppers left the stores and went online. When they gravitated to their mobile devices, they lost even more in Average Order Value (AOV). Quantum Metric data shows an 11 percent drop in order value when customers use their mobile device versus their desktop screen.
When factoring in Click and Collect the order value situation gets way worse. Order values drop by nearly 40% versus the desktop shipped purchase. Ouch.
Good news is on the horizon though. Retailers have improved their AOV in the month of November by nearly 20% YoY as shoppers get comfortable with click and collect. Retails are also getting much smarter about adding options and recommendations both online and in the store. Today many retailers also offer reserve online and pick up in store which enables customers to make sure their product will be in stock while retailers capture the most high value customer, the in-store shopper.
Average Order Value trends bring up another big concern though. As click and collect improves, the gap between desktop and mobile order sizes has widened. With mobile shopping domination, this could really wipe out gains from Cyber Week.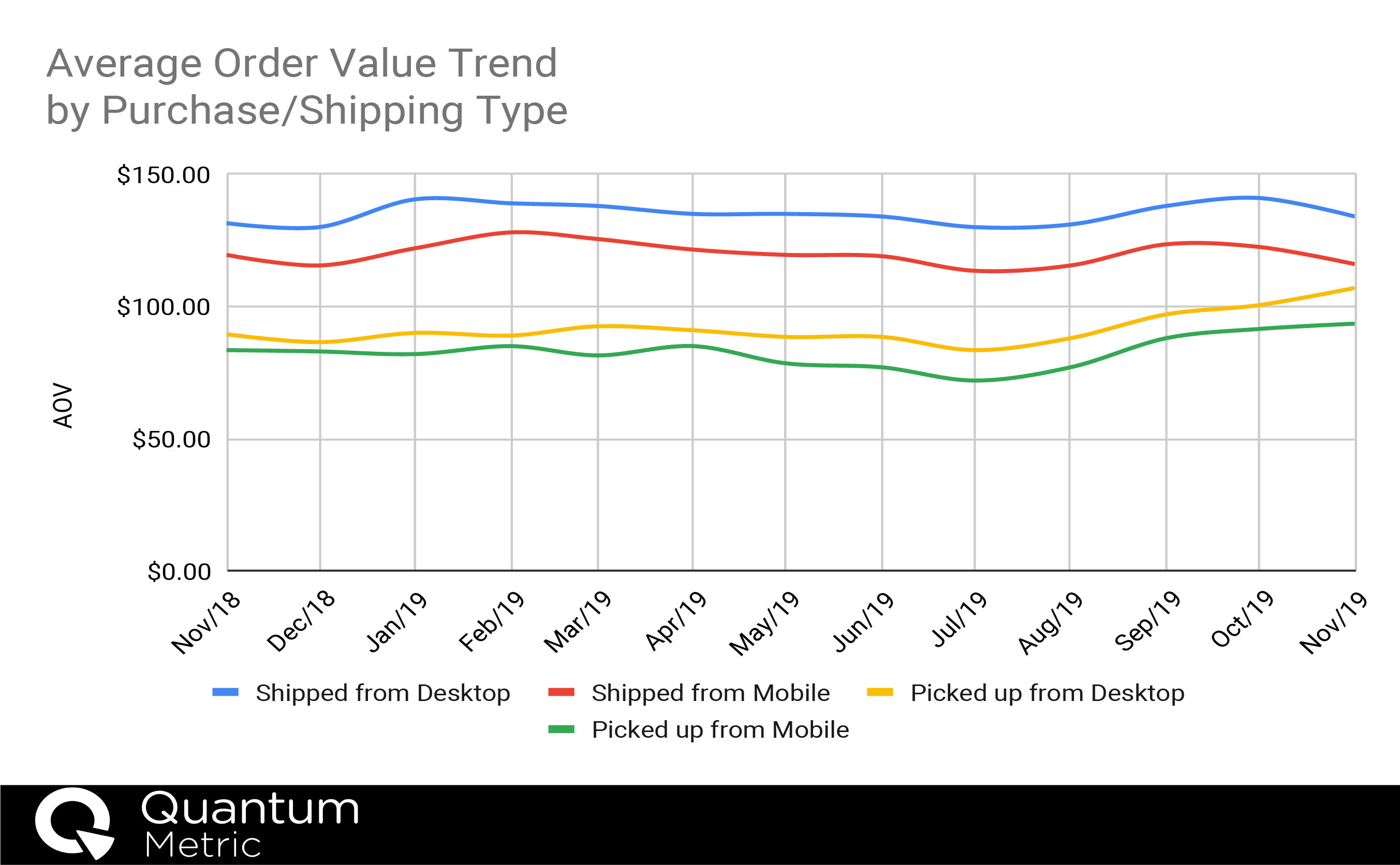 Average Order Value declines force retailers to bring more shoppers through search marketing spend, general price discounting and special promotional deals, all of which push down the margins.
Unfortunately it looks like smartphone and Click and Collect shopping trends are more Grinch than Rudolph, but a select group of retailers will have used it to build future customer loyalty. It is the return shopper who will make up the difference next year and Quantum Metric will be looking at the dynamics of building loyalty early next year.